Have you met 3D artist Tom?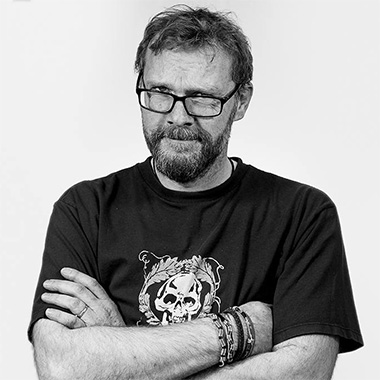 Tell me a little bit about yourself?
I've been working in CG (3D, animation, effects and compositing) since 1997, and before that as a hobbyist for some time. I studied engineering at college and uni, but have always had a love of art and enjoy the fact that my role lets me combine all my physics and engineering knowledge with art and animation. I'm married and a father of three (now pretty much grown up) children.
What's your role at REALTIME?
I'm a CG Generalist – which means that I don't specialise in any one area, but do a bit of everything. Because I'm familiar with the whole of our process from start to finish, this puts me in a good position to drop in anywhere I'm needed, and also to look at how new tools and methods can be incorporated in our workflow. Also, when we have smaller simpler jobs in that don't require a full team to complete, I'm often able to take these on single handed.
So what does an average day consist of for you?
Most of my days are spent on production or research and development, so I spend almost all of my time solving problems in front of a PC.
What's been your favourite project to work on and that you're most proud of?
My favourite project is always the last one we've finished – I have a very short memory! Recently I'm pleased to have helped introduce the team to software and methods that I think have made improvements in both environment and character work. Like most CG artists I have a particular love for anything to do with characters, so it's been great to get my teeth into both the Smite trailers and the Mummies TV series.
I also did a World of Tanks XBox trailer for E3 on my own when I first started at REALTIME – I love that my son watched it on the E3 coverage on his XBox and got all excited!
What's the biggest challenge you've faced and how did you get around it?
Every few days we meet big challenges, the biggest of which I encounter are usually to do with software problems or limitations. I try very hard to test as many features of our intended workflow as possible before we get too far into production, to try to identify what problems may occur, but sometimes we just have to get inventive and find a work around at the last minute. Personally I enjoy tracking down why something doesn't do what you expect, and the puzzle solving that's sometimes required to get back on track.
What have you learned since you've been working here?
Whilst I had a "solid" understanding of both cloth and fur in CG, I've had the opportunity to spend much more time practicing and refining those skills in the past year.
What's the best thing about working at REALTIME?
At REALTIME we get to work on amazing projects – it's great to be part of such a talented team.
Tell me a fun fact about yourself?
I ride motorbikes and I play banjo. Rarely at the same time though.