Creating a AAA game trailer in lockdown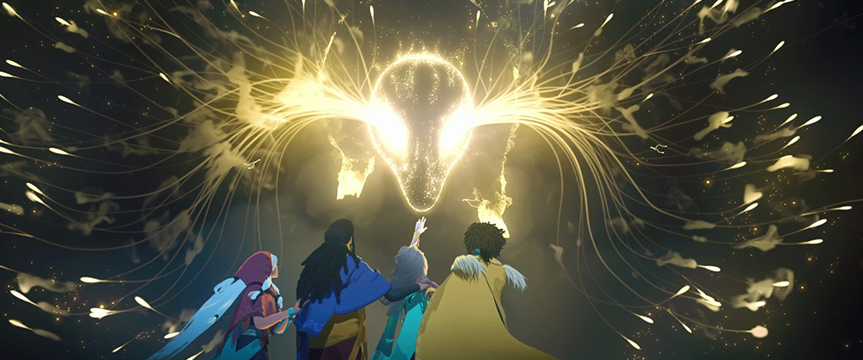 2020 has been an unprecedented year. The country went into lockdown as the world dealt with this continuous pandemic. Our way of life shifted dramatically, changing how we all work and live. For us, our entire operation was briefly flipped on its head and we were left wondering how we would deliver. 
But we were able to slip into a very natural routine that had a minimal effect on productivity. In the end, we put a video game trailer together in the midst of a lockdown, testing our artistic, communication, and management skills.
The final product has exceeded our own expectations and looks to be a massive hit, with plenty of positive feedback and YouTube views, especially on the art direction, style, and music. So how did we pull together a trailer like this under such circumstances? With insight from Art Director Stu Bayley and Head of Production Jane Forsyth, let's look at the challenges faced and lessons learnt along the way.
The lockdown
From the start, this was an electrifying project for the REALTIME team. Having worked with the client previously, we were excited to work together on their latest title. Of utmost importance was making sure the game's beautiful art style translated well in the trailer, and audiences could see how much of a visual marvel the game is. Thankfully, we have some impressive artistic talent at our disposal, along with the fantastic artists from the client.
As if staying faithful to their visionary art style wasn't enough of a challenge, then came the lockdown. Suddenly, our art team – so used to working in proximity and bouncing off of each other – was scattered. It's a familiar feeling to many of you, we're sure.
With some foundation work done prior to this, thankfully, everything else could be completed from our homes. In principle. But in this situation, you have to change how you approach work. Many people were and are still dealing with other external pressures like homeschooling and supporting a partner who was still working as a key worker. Everyone needed to restructure their days to accommodate this. For us, that meant entire working days were spent in meetings; it presented a new communication challenge.
Our homes became our workspaces and our families became our colleagues. And that was just as true for our client. Working with people across the globe and with everyone working around their families, we had to be readily available at all times. A colossal number of hours went into this project to get it over the line, requiring a level of motivation you wouldn't think possible in the midst of a pandemic. But we got it done.
The challenges
With such a distinctive art style, one of the key challenges was always going to be making sure it shone through in the trailer. Everything had to be perfect, so we worked collaboratively with the client. 
They valued any input we brought to the table and we each pushed the other to do our greatest, reaching new heights of fidelity. Character animations were on a whole other level. In all, we took 60 passes at this project to achieve the vision we were after, a far cry from the 10 or so times it might usually take us in a non lockdown situation. It truly is pixel perfect.
Working out of the office was a challenge, too. No matter if you went the VPN or remote desktop route (as we did with Splashtop), you were still at the mercy of the internet connection. But, for us, working from home went a lot smoother than we ever anticipated. It seemed so daunting, but everything came together in the end. And it showed us a new flexible way of working that will surely change how we all work forever.
The communication
One thing that had to change for all of us is how we communicate. Our colleagues aren't just a desk away anymore. But, bizarrely, this project might have made us closer than we were before. The key is to find a communication platform that works for your situation. For us, Microsoft Teams was a godsend. And we had only recently switched to it before the lockdown!
It's how we communicated with one another and with the client. When you both use the same platform, it just makes the whole communication process that much easier. We were always on it and so too were the client. It made the back and forth simpler, and changes can come about quicker.
But do you lose something by not being in proximity to one another? Stu couldn't look at what one of our team was doing and give guidance before it went too far down the wrong road, hence why there was a need for so many meetings. It was harder to keep on top of things that you would normally have an eye on while walking through the studio. Errors will still happen – such is the creative process – but when you aren't in that usual environment, you need to be even more attuned to the day to day in an effort to reduce their frequency. Finding ways to communicate effortlessly was a necessity.
Communication plays a much more important role beyond this. It's about making sure everyone is feeling their best. Everyone needs support, whether they live alone or have their family with them. It's why we made sure to talk to everyone as much as possible. Not just about work, but also about life outside of it. As they say, humour is the best medicine.
The side effect of this is our interpersonal relationships have never been better. They're stronger because of the constant communication. This carried across departments, with different teams excited to share what they've been working on. It makes for a better work-life balance, a better team, and a better working environment.
The lessons
So what can we take away from this? What will we keep with us to make REALTIME a stronger business going forward? The importance of communication might just be the biggest lesson. Not just on the usual level you might have in the studio; it's more than that. You need to communicate more and in a more genuine way, both in and out of work. It encourages teamwork, creating a sense of unity that brings everyone together.
It proved that we can pull off such a project and, with some tweaks, could easily be a new way of working. The studio will always have its place, but we have learnt so much about working across distance, making any future collaboration that much smoother. The flexibility can't be underappreciated; being around family more can only be beneficial.
Something else to take away is the importance of giving yourself the breathing space. Jane knew when she needed 5 minutes away to run around the room and do anything that wasn't work and Stu found solace in oat milk, of all things. But we all need to let off steam, and that's a message we brought to our staff. We made sure to add some levity to proceedings to keep it lighthearted and spirits high. After all, we're in this together as a team. Sometimes what you need is for someone to post a silly gif or just talk about their interest outside of work. It's a coping mechanism that's always appreciated.
Above all, we learnt we can adapt to any situation and still deliver an amazing end product. We can still collaborate effectively and work well with our clients. We can pull together as a team and deliver on our client's artistic vision. And we can communicate better than ever.
The client appreciated all the time we put into the project to make it a reality and we are appreciative of the space they gave us to stretch our creative limbs. We know this lockdown won't stop us and we can still create a AAA game trailer no matter what the situation.
At REALTIME, we're always ready to step up to the plate and challenge ourselves. We focus on open communication and collaboration to deliver exactly what you're looking for and more. If you would like to discuss your upcoming project and how you plan on handling it in this situation, feel free to reach out to me at callum@realtimeuk.com.