DRAMA SUMMIT LONDON – KEY TRENDS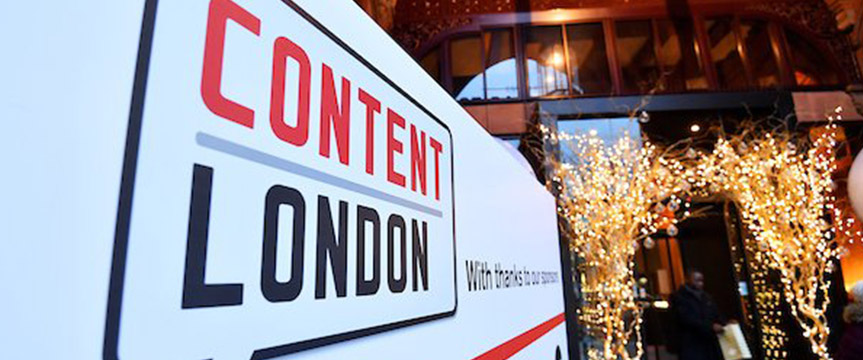 I recently attended the Drama Summit in London which has grown to become one of the most important events for the International Television drama sector. The three-day conference was attended by over 1700 UK and International delegates drawn from producers, financiers, broadcasters, distributors and Streaming Content Platforms. So, I thought it might be useful to pull together some of the key trends from the Drama Summit that are coming through in our sector.
Local Stories working Internationally
A consistent theme across the conference was that very local stories, from within specific cultures and with universal themes (especially love stories) were working really well Internationally. One that's ticked all of these boxes is Netflix's Home For Christmas. Netflix's VP Of International Originals, Kelly Luengenbiehl, talked about series which is about a single 30 something woman who pretends to her family she has a boyfriend and then has 6 weeks to find one to bring him home… for Christmas.
Other examples included Irish series Endeavour, Fleabag and Outlander. There were also examples of shows shot in one language and then adapted into English versions, including S4C's Keeping Faith and Hope, both shot simultaneously in Welsh and English, and the French series Dix Per Cent, (Call My Agent), set in the world of actors agents which is being re-made for the UK market by W1A and 2012's Tony Morton.
The rise of foreign language / internationally set stories
Commissioners and distributors also talked about the rise and success of foreign language stories. Netflix's Spanish language series La Casa De Papal (Money Heist) is their most streamed foreign language series. Netflix said that 50% of their subscribers had downloaded a series that was not in their native language in the last year – up 25% from the year before. This is an extraordinary figure and is in part being driven by the streaming content providers, who are investing in local language production globally and who can distribute shows Internationally through their platforms to much larger audiences than was previously possible through independent film releases or on terrestrial and cable TV.
Series with International settings were also seen to be performing well, with shows like Sister Pictures Cheronbyl and Giri Haji (set in London and Tokyo), HBO Max's Tokyo Vice and Damien Chazelle's 1920's set Parisian musical series The Eddy being cited as examples of this trend.
The YA, Fantasy / Historical boom
Another trend that seems to be gathering momentum is the number of series targeting the Young Adult (YA) audience, many of which include fantasy, magic and/ or historical settings.
Netflix showed pre-release clips from The Witcher at the event, which was adapted from a well-known series of Polish novels which has already been re-commissioned for a second series and which is their highest rating series to date. Other YA and fantasy / historical shows in the pipeline include Letter To The King (Netflix) and Season 2 of the BBC's His Dark Materials. Amazon have also purchased the rights to the Lord Of The Rings trilogy and Netflix have the rights to C.S Lewis' Narnia books – both are looking to create YA skewing episodic series from these IP's.
As the streamers drive audience demand for YA shows, the BBC are making conscious efforts to target the YA audience. The BBC's reach of the 16-24 audience fell under 50% for the first-time last year. As part of their fight back to increase the appeal of their channels to this audience, there were two panels at the conference featuring shows, part funded by the BBC, targeting this demographic.
One of these shows was The Watch. The panel featured the showrunner Simon Alan, Producer Richard Stokes from BBC Studios, Commissioning Editor Sarah Barnett from BBC America and Producer Rob Wilkins of Narrativia discussed the development of the forthcoming 8-part series which has been adapted from Terry Pratchett's Discworld Novels.
Simon Allen and the team have taken steps to broaden the appeal for the series from the loyal Pratchett fanbase. Simon Allen said his experience in the care system as a child helped him to empathise with the characters who are powerless in their world. With a writer's room that included, as described by Simon Allen, an Iraqi nonbinary drag queen, a working-class bloke from Burnley and a Granny from Wales and with colour blind casting the show is clearly hoping to increase its appeal to a younger demographic. Commissioner Sarah Barnett (who also commissioned BBC America's Killing Eve) said Simon should adopt a 'mean and queer' tone, for the series. This I something that certainly helped to provide a distinctive tone for Killing Eve, which BBC America have commissioned for a third season.
Simon Allen said The Watch is about the chaos affecting our societies and what happens when lawlessness goes unchecked. Simon summarised by saying they have borrowed some mythology that they hope will power the series for multiple seasons. The team showed brief clips from the series, being shot on location and at Cape Town Studios in South Africa. With fantastic sets and costumes and an electrifying performance from Game of Thrones Richard Dormer who plays the lead Sam Vimes, The Watch looks like it will provide some spirited competition to the streamers YA output.
There was also a panel featuring another BBC funded, South African shot series, namely Mammoth Screen's Noughts & Crosses, airing on the BBC this winter. The series is the long-awaited adaptation of the Malory Blackman novels of the same name. Malory Blackman was inspired by the Romeo and Juliet love story and placed it in an inverted parallel universe, where history has unfolded differently, with African people dominating globally society economically and culturally, with European economies and peoples being very much the underdogs.           
Shorter runs and the return of event programming and the schedule
Several speakers talked about how audiences were now looking for shorter runs of series, so 6-part series or 3-part series. Audiences don't have the same appetite they used to for the 13-part returnable series. Serials with closed storylines like Chernobyl are increasingly popular.
Another discussion point was the move away from 'binge and burn' of series being dropped on to streaming services at once. There is something of a return to releasing episodes of big event series each week, to help drive anticipation for new shots. Apple TV + launch series The Morning Show is released weekly and Disney + have released the Star Wars spin-off The Mandalorian the same way.
Several broadcasters and streamers also talked about the importance of event programming and seasonal programming, with a preference for content that comes with marketing 'hooks' to help drive audience awareness.
Peak TV & The Streaming Wars
The overall sentiment at the conference was that these are good times for the TV drama sector and that despite some concerns about TV drama reaching 'peak content' and there being an oversaturation of content – for now there seems consensus – we can have more of a good thing.
From a production point of view this is being driven by demand from the many new and existing commissioners for TV drama. New streaming content platforms who have recently launched in the include Apple TV +, with the Morning Show (star studded an a rumoured $300 million series budget) and BBC / ITV's Britbox (launched to with little fanfare and no original content) and the Lionsgate backed channel Starz, launching a direct to UK app in the UK for its library of content which includes shows like The Spanish Princess and Good Omens.
Other 'traditional' studios who have entered the streaming space include NBC Universal with their platform Peacock. This will screen new original series, derived from the Universal Library. Launch shows include the second reboot of Battlestar Gallactica and a new episodic version of seminal sci-fi novel Brave New World, made by Universal owned Amblin Entertainment. Peacock is also available to Sky subscribers. Sky now also include Netflix as part of their package and will continue to offer HBO's content through their platform in the UK – which in future will be available to US consumers via HBO Max, the streaming platform due to launch next year.
On March 31st Disney + will launch in the UK, featuring, with launch series The Mandalorian from the Star Wars franchise and a huge arsenal of library content from Disney, Pixar Marvel and National Geographic – the combined content from the Disney / Fox / Hulu mergers and acquisitions.
The Paramount / Lionsgate / Mgm streaming platform Epix were also active at the Drama Summit, discussing forthcoming series on two different panels, which include Pennyworth, a UK shot Batman 'origins' story and Godfathers, a gangster series set in Harlem starring Forrest Whittaker. Epix will also feature Carnival Films new 'prestige period' drama series The Gilded Age.
Whilst much of the demand is being driven by US studio and streaming content players, UK production companies and talent are doing really well from the continuing growth in International drama production.
Driving up talent Costs?
But not every cloud has a silver lining – the dramatic growth in UK production has led to an escalation of crew and talent costs – and a shortage of both. This has driven production budgets up and lead to a fiercely competitive environment for both talent and commissions. A decade ago, there were under 20 really active UK drama production companies. Now there are well over 150 and many have ITV or BBC Studios investment or US / International studio investment.
Leading to direct talent deals
The competition for talent has meant that studios and streaming content platforms have started to develop direct deals with writing, performing and producing talent. Amazon referenced their rumoured £20 million a year deal with Fleabag writer/performer Phoebe Waller Bridge. There has also been much trade press coverage about other talent deals, with Grey's Anatomy Producer/ showrrunner Shonda Rhime's $100 million deal with Netflix kick starting the arms race for talent, other big Netflix talent deals include the one with Glee and American Horror Story Producer Ryan Murphy and Game of Thrones showrunners David Benioff and D.B Weiss.
Closer to home, the event featured Simon Pegg and Nick Frost, co-founders of Stolen Picture talking with their CEO Miles Ketley about their development slate and partnership with Sony Pictures. Their first show Truth Seekers is a comedy written by the duo with a team of writers and they have an ambitious and diverse slate which includes an adaptation of the Rivers Of London novels, The Technicolor Time Machine, based on novel by Tim Harrison a staff writer on the Star Trek TV series, which is about some filmmakers who use a time machine to return to the Viking era to film a Viking movie. Simon Pegg is also adapting a Neil Gaiman novel. Stolen Pictures also have an initiative to incubate and work with new talent, because both Simon Pegg and Nick Frost acknowledge that it is a much tougher environment for new talent now to get a foothold in the industry.
Meaning increasingly shows need to be packaged to secure finance
The increasingly risk averse nature of commissioning was a consistent theme across most of the panel sessions at the conference. Most commissioners and funders stated the importance of having a well-known or recognized IP, acting talent and writing, directing and producing talent with an appropriate track record to realise the project. Although several producers acknowledged that even with these elements in place, it could be difficult to secure writers and schedule acting talent if they were fortunate to secure a commission. Many felt packaging was essential to start the conversation with financiers.
One company working in this way who featured in one of the panel events is Carnival Films, whose founder and Producer Gareth Neame has a long-standing collaboration with actor turned writer Julian Fellowes, which started with their collaboration on Downton Abbey. They have another 'prestige period' drama series, Belgravia in production, based on Julian Fellowes novel of the same name. Fellowes and Neame are also working on The Gilded Age, set in 1880's high society in New York, which is being funded by HBO and Universal Television.
Another panel featured Sally Wainwright and Faith Penhale talking about their collaboration on BBC / HBO's Gentleman Jack, the adaptation of Anne Lister's diaries which will return for a second series in 2021. With Ann Listers diaries running to three times longer than Samuel Pepys', Sally Wainwright is hoping there are several series to come yet for Gentleman Jack.
Manchester based Red Productions also showcased their new series Trace, adapted from a non-fiction book about forensic science and with material from a Val McDermid novel, the series was written by actor turned TV writer Amelia Bullmore. Amelia acted in Red Productions series Scott and Bailey where she became interested and knowledgeable about both police procedure – and how to craft police procedural tv series.
To Conclude…
The Drama Summit is a really excellent event and it is exciting to be part of a UK drama production sector that is thriving and taking advantage of the US and International funding to continue growing rapidly.
We at REALTIME are excited to be growing alongside the UK drama sector and are currently working on shows for BBC America, Sky and HBO.