tyFlow Test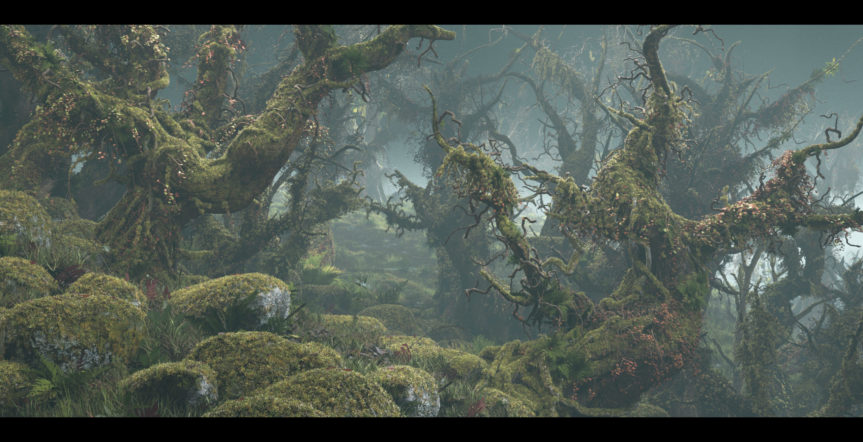 Our hugely talented Artist Danilo Lombardo has been testing some new tools that have caught our attention, tyFlow in particular got an amazing result.
Lucky for us he's done a lovely little write up… take it away Danilo!
This scene started as an experiment, with the mossy forest of Wistmans Wood , in Devon, England, as our main reference.
A scene like this relies on some little but crucial fundamentals.
The main objective was to create a scattering system that could be manipulated and art directed while creating an interesting chaos throughout the scene.
In doing this, it's really beneficial to come up with a hierarchy of growth that can be repeated across, and that helps us define the visual pattern for the elements.
In our scene we defined some elements that would act as main surfaces while the rest would simply grow on top and dress it.
These elements were the terrain, rocks and trees.
The first area is the terrain, that was achieved using Gaea powerful node based system and then exported as geo. The terrain was then scattered with rocks and trees using forest pack to have a fast random distribution , keeping a low poly version of those elements that would later serve as scatter base for all the vegetation.
The base layout is quite simple.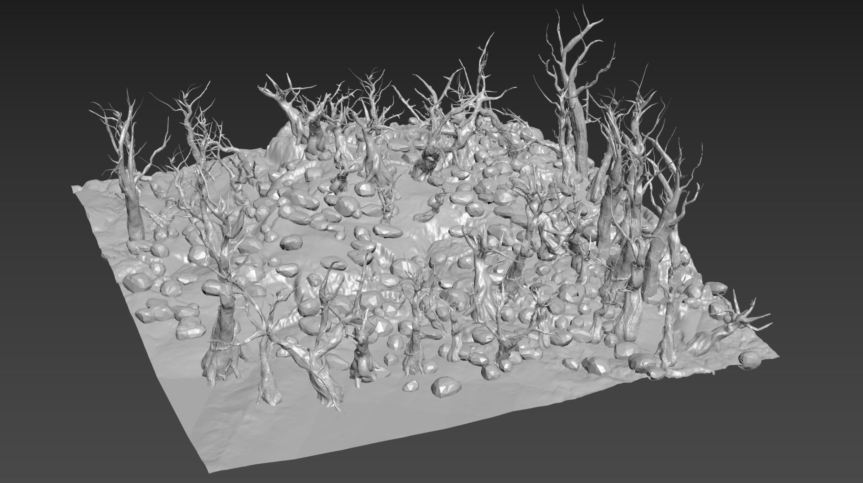 Trees and rocks were sculpted using zbrush and textured using substance painter, following a pretty standard approach for this kind of objects, always having the gnarly dwarf oak trees
from Wistmans Wood as a goal.
Only 5 different variations of rocks and trees were sufficient for having enough visual noise in the scene. Some smartmaterials such as moss and tree bark were developed in substance to be easily instantiated on all elements. The vegetation in the scene is a mix of megascan assets plus some additional ones obtained using textures atlases from textures.com mapped on simple planes. Every final tree is then converted to a vrayproxy and placed in the scene.
[All the trees are sculpted in zbrush and then dressed with vines , plants and leaves using zbrush fibermesh and tyFlow. The plugin "ultimate painter" was used to place some of the objects manually.]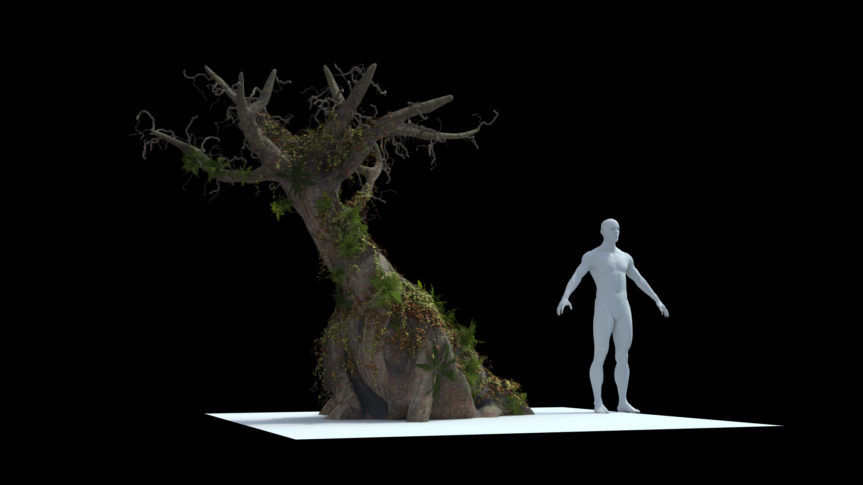 The real fun starts with the infinite possibilities that scattering brings to the table. Forest pack was used on the ground, from small grass to bigger plants, using textures to drive the distribution and using the powerful forest material to colourise those assets.
The rest of the scattering was handled by tyFlow in order to test its capability. Although being mainly a tool for FX artists, I was blown away by the possibilities for environment artists alike. I have always been a fan of using particle flow in max for certain tasks, and tyFlow have the amazing ability of scattering a crazy amount of points to any surface and gives artist a lot of freedom in what to do with those points.
I've been able to create a moss system that would just work on every asset in the scene, and can be reused even in future projects. Particles are being born on objects using a position object operator, which has now been improved to take in account objects normals, material IDs and textures to drive the density of those points. Points are then converted to moss , using a shape operator with the out of the box "grass clumps" 3D template present in the shape node.
[particles are scattered on the objects using the z-axis to drive their placement. Each particle is converted to a grass clump at render time.]

This simple setup was all I needed to literally cover the entire scene in moss, with a display node set as "sprite" that kept the viewport extremely fast.
tyFlow was used to scatter all the moss plus many other smaller items like twigs on the rocks etc. and it proved to be a trustful help when it comes to scatter and art direct a huge number of points in the scene, without ever leaving max.
I was able to texture my moss using different custom V-Ray materials assigned to particle ID groups. A mesh operator then told V-Ray to treat each strand of moss a V-Ray instance.
tyFlow is fully compatible with V-Ray and is also able to output V-Ray proxies. Final lighting and fog were handled in V-Ray.
The final scene is quite light considering the amount of details involved. Different colours were used for different tyFlows.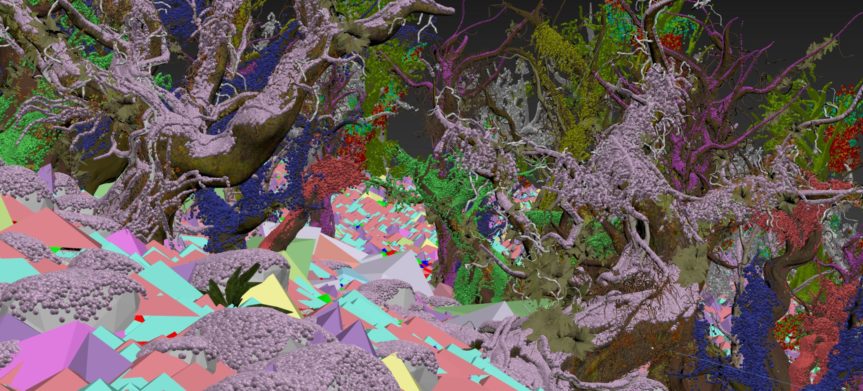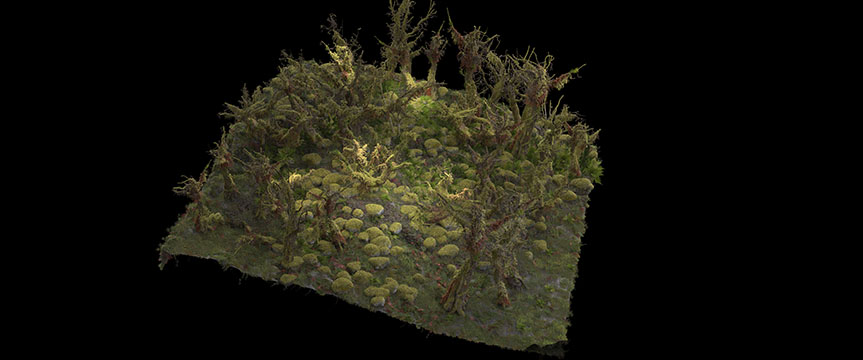 Scattering and dealing with huge number of points is vital in 3D environments production, from creating garbage on the ground and piling of objects in a natural fashion,to parametrically dress a shelf full of items without having to do it manually to creating more complex setups with destruction in order to model decaying structures, the possibilities are endless.
I'm really excited about tyFlow and the power it brings to 3dsMax.
Here's a little breakdown showing different stages of growth.
We have lots of lots of top tips in our insights take a look!