REALTIME Appointed Key VFX Vendor on Sky Original Drama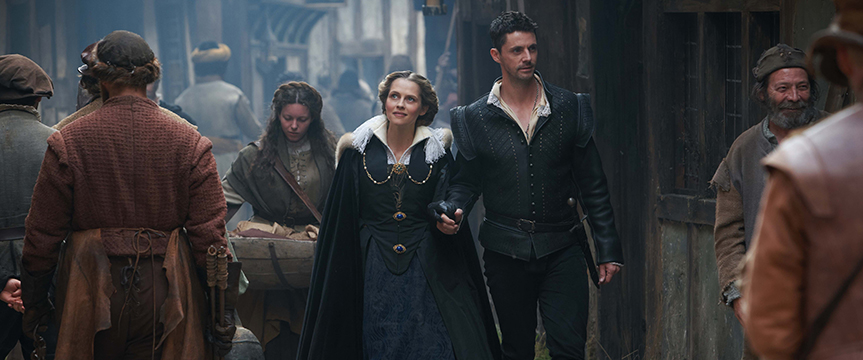 VFX Studio REALTIME has been appointed a key VFX vendor on the second season of Sky One drama 'A Discovery of Witches'.
The second season of 'A Discovery of Witches has been commissioned by Sky One and is being produced by British television production company Bad Wolf.
REALTIME has been briefed to create and design a variety of different magic techniques, using a mixture of FX and 2D techniques. They have also designed and animated a hero creature for the series.
The drama is a TV adaptation of the bestselling novel A Discovery of Witches by Deborah Harkness. It stars Matthew Goode (Downton Abbey) and Teresa Palmer (Hacksaw Ridge) and is shot in Wales and on location in Italy. 
Jonathan Rawlinson, executive producer at REALTIME, said: "We all watched and loved the first series of A Discovery of Witches. It's great to be working with Bad Wolf on Season 2 of A Discovery of Witches. We've flexed our creature and FX designing skills to help design a truly unique character. Here's hoping our skills stand us in good stead to help create another memorable digital on-screen experience for fans of the series.
"The project comes at an exciting time for REALTIME. We are developing a reputation for projects where creativity and literary excellence combine to make compelling TV series. And it's always a thrill to work alongside partners who share our passion for screen dramas that live long in the memory."
REALTIME is also currently working on The Watch for BBC America. The Watch is a fantasy police procedural series inspired by characters from Sir Terry Pratchett's Discworld series. REALTIME is developing a number of creature and atmospheric assets for the show.
Last year, REALTIME worked on the BBC adaptation of the 2019 The War of the Worlds. REALTIME was a key VFX partner for the production, creating visual effects for the first-ever British television adaptation of H.G. Wells' iconic novel. 
To meet demand, the VFX Studio launched a recruitment campaign which is ongoing. The campaign will see the studio become one of the largest in the North West UK region, employing a mix of up to 100 full-time staff and freelance digital artists by the end of 2021.
Notes for editors
More information about A Discovery of Witches Season 2.

Season 2  opens with Matthew (Matthew Goode) and Diana (Teresa Palmer) on the streets of Elizabethan London, where they are hiding in time from the Congregation. Here in Elizabethan London they must find a powerful witch teacher to help Diana control her magic and search for the elusive Book of Life. Alongside the Elizabethan action, back in the present day, Diana's beloved aunts, Sarah and Em, must take shelter with notorious witch hunter Ysabeau De Clermont at her ancestral home, Sept-Tours. Meanwhile, in Oxford, Marcus and Miriam take on Matthew's mantle to protect daemons Nathaniel and Sophie, whose pregnancy is advancing. And Gerbert, Knox, Satu and Domenico are determined to hunt down every clue they can to Diana's and Matthew's disappearance, and the secrets their allies are keeping from them.
Executive Producers: Jane Tranter, Deborah Harkness, Lachlan MacKinnon, Susie Conklin, Pete McTighe

Directors: Farren Blackburn

Screenwriters: Sarah Dollard, Susie Conklin, Pete McTighe

Producer: Edoardo Ferretti

Production Designer: James North

VFX Supervisor: Steph Coren

VFX Producer: Antony Bluff
https://bad-wolf.com/productions/a-discovery-of-witches-season-2/