REALTIME Key VFX Vendor on BBC America's The Watch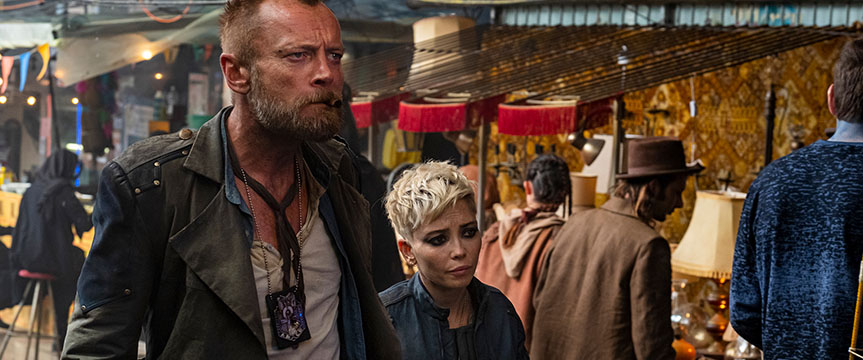 The Watch – 8 x 1-hour series for BBC Studios / BBC America / Narrativia.
VFX Studio REALTIME are delighted to be working on The Watch as one of the Key Vendors, a fantasy police procedural series which has been inspired by characters from Sir Terry Pratchett's Discworld series. We are developing a number of creature and atmospheric assets for the show.
The character-driven drama follows several of Sir Terry Pratchett's best-loved creations on a riotous and emotional odyssey. The cast includes Game of Thrones' Richard Dormer as Captain Sam Vimes, Adam Hugill (1917, World on Fire) as Constable Carrot, Jo Eaton-Kent (Don't Forget The Driver), as Constable Cheery, Marama Corlett (Blood Drive, Sick Note) as Corporal Angua, Lara Rossi (Crossing Lines, Cheat) as Lady Sybil Ramkin and Sam Adewunmi (The Last Tree, Stan Lee's Lucky Man) as Carcer Dun.
The series is directed by Craig Viveiros (The War of The Worlds), Brian Kelly (Outlander, Poldark) and Emma Sullivan (Silent Witness, Doctor Who). The show's lead writer is Simon Allen (The Musketeers, Das Boot). Joining Allen is a team of writers including, Joy Wilkinson (Nick Nickleby, Doctor Who), Catherine Tregenna (Torchwood, Stan Lee's Lucky Man), Amrou Al-Kadhi (Hollyoaks, Little America) and Ed Hime (Skins, Doctor Who).
The Watch was commissioned for BBC AMERICA as part of its 2020 slate by Sarah Barnett, President, AMC Network's Entertainment Group & AMC Studios
Jono Rawlinson, Executive Producer at REALTIME "It's great to be working on The Watch. We've really enjoyed being able to use our 3D character design and building skills as well as our VFX and love working with the fantastic team on the series'