Going for Goo!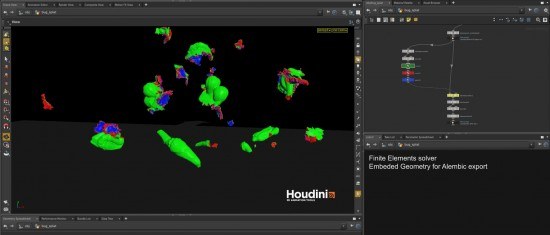 Our VFX wizards Graham Collier and Adrian Vickers give you a little insight into the VFX produced for Dropzone in their latest interview with SideFX
Here is a little snap shot, but you can see the full interview HERE
The exploding alien shots don't come until the end of the trailer, but when they do they have immediate impact, with varying amounts of organic goo splashed around. In order to realise this kind of demise, REALTIME looked to Houdini's Finite Elements solver for a 'soft body' approach.
"We loved the organic results we were getting," says lead VFX artist Graham Collier. "So we started off by testing the Fractured Solid Object FEM tools. We got some very nice results from this so we exported the animated alien meshes into Houdini."
CAPTIVATE YOUR AUDIENCE
As the trusted partner for world-renowned games companies for over 20 years, we have the experience, expertise and passion to deliver engaging and immersive trailers for upcoming releases.
With specialist creative teams working with the latest CGI tools, we create cutting-edge visual communications that captivate audiences, engage viewers and inspire belief. Whether it's an online marketing trailer or TV commercial, we'll create fantastic digital worlds that deliver tangible real life results.
Through individual and team expertise, our highly adaptive production pipelines add efficiency, quality and transparency to our creative processes.